About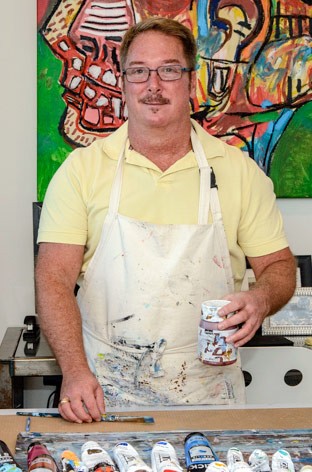 Tom Rossetti is a native Floridian, born in Fort Lauderdale in 1963. He graduated from Florida Atlantic University in 1986 with B.F.A degrees in Fine Art and Art History. His career has been divided as both professional artist and art dealer.
Artistically, Rossetti is classically trained and has developed into an Abstract Expressionist. Rossetti states: "I have always loved the Expressionists and color field painters! Rothko, Frankenthaler and Motherwell have definitely influenced my early works. My newer series of woks are influenced by such artists as Wileman, Phillips and Markman." I love the freedom of expressing emotions as I paint, however, most of the time I let the paint itself direct the mood and composition of my canvases." Rossetti is also gifted in the area of Interior and Landscape Design and is an accomplished pianist and published poet. A contemporary Renaissance Man of sorts. This may be attributed to his rich family heritage. His descendants can be traced back to the famous Pre-Raphaelite painter Dante Gabrielle Rossetti and his poet sister Christina Georgina Rossetti…
As an art dealer, Mr. Rossetti has directed several of the most prestigious galleries in South Florida. Rossetti has sold major works of art by Pablo Picasso, Camille Pissarro, Pierre-Auguste Renoir and Salvador Dali. He is also a sought-after and respected juror for many of the South Florida art exhibitions and shows. His works are in private collections in the United States and in Europe.